The system enables you to: 
Initiate and negotiate new small projects

Provide feedback on projects currently in development

Raise support tickets when things go wrong or you just need help with a site that's already live
Tickets raised through the portal will be picked up by your Producer, who will respond to the ticket and be responsible for ensuring it gets dealt with in the most efficient way.  
Logging issues
When you arrive at your service desk, you'll see that you're presented with two options:
Contact your Producer

– To make a new request or report a general issue.

Provide feedback on specific projects in development

– To log amends to work-in-progress.
For example:
If you want to request a quote for a new feature, select: Contact your Producer > Make a new request

If you want to report a bug on a live site, select: Contact your Producer > Report a general issue

If you want amends made to a project you're reviewing on staging, select: Provide feedback on specific projects in development > Project name
Details to include in your tickets
No matter the type of request you choose, you'll be presented with the same short form. 
Complete the following fields: 
Summary – Summarise the issue in a short title.

Description – Describe the issue in as much detail as possible and include a URL to the page you're talking about.

Attachment – Add a screenshot or other attachment to support your description. You can drag and drop files as well as copy and paste screenshots into the ticket. 

Priority – Leave the priority set to Medium or change this. Please reserve High/Highest priorities for really urgent issues. 
Leave 'Share with' set to your organisation if you're happy for colleagues to also see the ticket. Otherwise set to 'No one' to keep it to yourself and the Fat Beehive team. 
The more detail you include in the ticket, the more chance we will have act upon it immediately. Otherwise, we will have to seek clarification and the ticket may bounce back and forth between us until we understand what you need.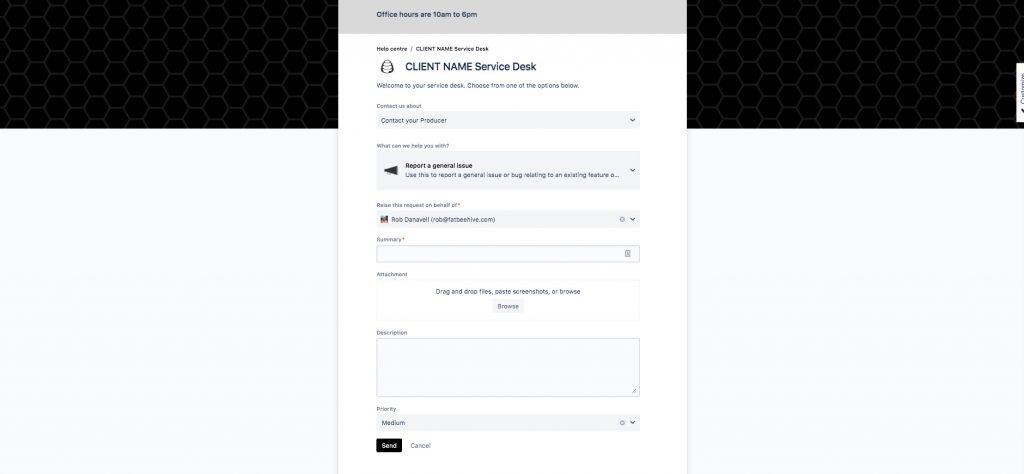 Submitting your ticket
Upon submitting your ticket, it will be sent to your assigned Producer. They will assess the ticket and if clear and complete, can action or assign the ticket to the right person on the team to action. 
Status of your tickets
In the top right corner of your service desk, you can always access the tickets you've raised, as well as any tickets from your colleagues.
Each ticket will include a status label as well as comments from the team. 
When the ticket is raised, a comment is added or approval is sought, you will receive an email notification with a link back to the issue. 
Once a ticket is resolved, it will disappear from your list unless you refilter the list to see the 'Closed requests'.
Questions
If you're having any trouble using the service desk or have any questions, simply get in touch with your Producer.