Our next BuzzTalk is on
Thursday February 1st 2024
Our 5th Buzztalk will discuss the reasons organisations have websites, and effective ways to drive people to your website using Google's Ads grants. Come along to share a drink with fellow not-for-profit professionals before and after the talks. Read on for more detail.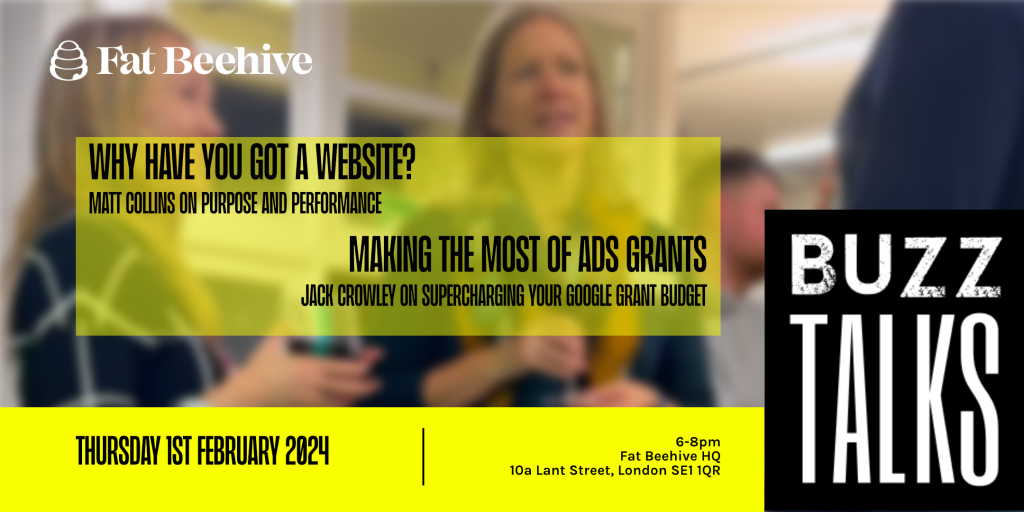 Why have you got a website?
Some people operate as though (re)developing and launching a website is the end goal. We think it is an early goal, not the end. A website can cost a large amount of money, sometimes as much or more than a salary. So shouldn't your website have a job description?
Matt Collins discusses how Fat Beehive suggest you should consider your website's purpose, our approach to identifying and measuring performance, and the long term prospects of your website – what you should be thinking about from day one and delivering through day 1825.
Making the Most of Ads Grants
Google's Ads grants are the stuff of legend. Some organisations have kind of heard of them, many organisations have them in place but don't know much more than that, and some organisations are getting real benefit from well set up and maintained Ads.
Get Fat Beehive's low down on what the grants actually are, the risks of a poor set up, and our best practice approach to setting up your grant funded Google Ads for your best outcome from Jack Crowley
If you'd like to come along you can sign up for the event (free, as always) here:
https://www.eventbrite.com/e/buzztalks-005-website-purpose-google-ads-grants-tickets-756158007957?aff=oddtdtcreator
---
If you'd like to be informed about future BuzzTalks events, please sign up to our mailing list here
---
Feedback from previous BuzzTalks events
"Enjoyed the networking, the conversation and the food and drinks, thanks!" "Lovely to have an in-person meet up option alongside the recording to watch at a later date." "Enjoyable evening with succinct, expert talks (and nice refreshments)" "Very friendly team and can't wait until the next one!"
---